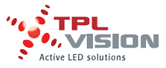 Created in 2005, TPL Vision is a LED illumination specialist for machine vision applications in robotics.
TPL Vision designs and manufactures LED illumination products dedicated to be used in industrial processes where a machine vision camera is used.
Our range is specialized in:
Robotics applications
As sorting
Pick and place
Quality control
Code reading...
Besides the STANDARD version, 3 other versions are available:



DIRECT CONNECTION TO THE CAMERA
The LINK version has a specific wiring, compound of 3 M12 connectors.

OVERDRIVE UP TO X4 WITH CURRENT CONTROL INSIDE
The OVERDRIVE version is dedicated to specialists who want to customize the luminous flux very precisely.

CONNECT YOUR ILLUMINATION TO YOUR NETWORK
With the Triniti compliant range, you can easily connect the light to your network (GigE Vision or Ethernet) through a dedicated current controller.
LED BARLIGHT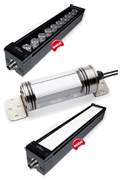 LED BACKLIGHT

LED RINGLIGHT


High Power HPRING - Powerfull directive lighting adapted to most cameras
12 high powerful leds - Continuous or strobe mode
At a distance of 1m, standard version can light up a circular area of 550mm

TRING - Compact and powerfull ring for confined environments
Miniature ring with 9 powerfull leds
Current control power supply - Continuous or strobe mode
LED SPOTLIGHT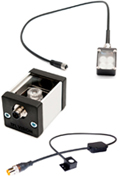 LED DOMELIGHT


Small DOME II - Powerfull and ingenious dome, to perfectly master the light
Homogeneous lighting
Clips to reduce the aiming window
M12 connector
2 sizes: 80mm and 130mm
Colors: white, red, green, blue, IR

Medium Flat MFDOME+ - Powerfull flat dome with thin borders
Rising times: 25 µs
Colors: white, red, green, blue, IR
3 versions availables: Standard, Overdrive and Triniti
SPECIAL LED LIGHTING


Modular Ringlight - Multiple lighting solutions with just a few elements
4 effects: ringlight, darkfield, low angle and dome
Rising time: 10 µs
3 sizes: 80, 130 and 200mm
2x2 colors: White / IR, Cyan / Red
Versions: Standard and Overdrive
IP 65 industrial protection

Low AngleII - Homogeneous and diffuse darkfield lighting
96 powerfull leds
Continuous or strobe mode - M12 connector
2 sizes: 80mm and130mm - Colors: white, red, green, blue, IR
Couleurs : blanc, rouge, vert, bleu, infrarouge