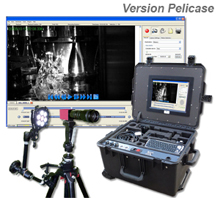 TroubleBox, High speed vision system for slow motion industrial process analysis
TroubleBox is a simple, powerful, and affordable high-speed video recording solution for industrial machine troubleshooting.
Its purpose is to simplify production line setup, and to provide manufacturers with a valuable analysis tool enabling a deeper understanding of a high speed process, and the ability to rapidly detect and analyse process de-synchronisations.
With its rapid setup time, simple operation, and economy, Troublebox adds value immediately.
TroubleBox is an all-in-one complete solution which includes:
High speed camera monochrome or color, high resolution 2MP
Up to 1.118 i/s (partial resolution)
Interface: ethernet
High power LEDs lighting system(1400 lumens max.)
8-48mm Macro Zoom Lens
TroublePix high speed imaging suite
PC (Windows 7) & Computer screen
Range of accessoires

TroubleBox Datasheet
Up and running in minutes, TroubleBox gives you the ability to see, capture, and troubleshoot the fastest details of your high speed process in perfect ultra-slow motion.
Process optimisation, maintenance and problem solving has never been easier, thanks to TroubleBox's simple Windows interface, easy to use slow motion software, and high performance camera system.
All captured video can be easily exported onto a USB stick and into a variety of popular formats including QuickTime® and AVI, or as individual thumbnails with microsecond timestamps.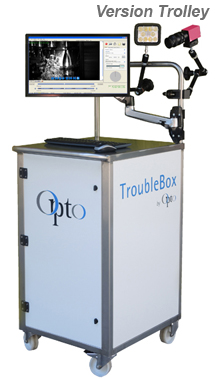 TroubleBox is available in 2 formats according to operating environment and user preference – either a transportable Pelicase or Stainless steel trolley chassis.
Both configurations feature the same high performance, industrial grade PC system and onboard storage for all accessories, meaning that TroubleBox is ready to be deployed in seconds anywhere on your production line.
The Pelicase version is also available for rental, short or long term.
Please, consult us
TROUBLEBOX APPLICATIONS
Weaving machine
In this high speed video, there are movements of the mechanical parts of the weaving machine to correct or improve the machine settings.
Industrial machine to fill boxes
In this film we see a machine to fill boxes of Q-tips. The TroubleBox has made it possible to adjust the mechanisms to achieve perfect positioning devices filling boxes.
Troubleshooting on production line
In slow motion, we can see that the two jaws of the pliers come in the room with a lag.
This causes a slight translation of the play compared to the expected position. The withdrawal operation is performed with the component constraints.
The result can be a manufacturing defect and the stresses in addition provide a machine malfunction.
The TROUBLEBOX has permited to detect the malfunction and correct the production chain settings.
Haut de page