Opto produces customized Imaging Modules for OEM`s consisting of Optic, Illumination, Sensors and Cameras – reduced to your needs.
What is an imaging module
Provides only an optically optimized image with standardized image recording by an optimized combination of camera, light and optics.
IMAGING MODULE PROFIL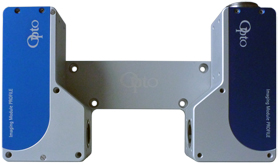 Our design ethic at Opto is to deliver the best image for your application in the most efficient way possible.
Our Imaging Module Profil innovatively combines telecentric optic in a compact design with easy system integration possibilities.
This module was recently used in conjunction with a Staubli high precision robot to perform high speed, high accuracy measurment of medical devices.


Opto PROFIL module enables ultra-high accuracy profile measurments to be taken on inline processes.
Magnification: 1.0x
Optimized for max. 1/1.8" cameras
Low distorsion
Comparison between the high-performance Thread Profile without any optical artifacts and a common telecentric measurement setup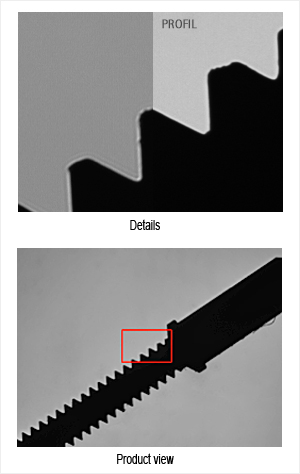 IMAGING MODULE PANO
High resolution 'panoramic' stitching technology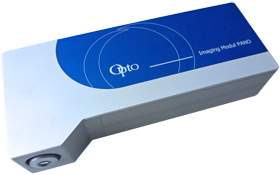 For certain inspection applications, it can be beneficial to have higher resolution information over a large field of view.
This frequently is a challenge due to the constraints of the optical system.
Opto PANO Module overcomes this problem, and is designed to capture and stitch a matrix of high magnification images into a single high resolution image, thereby enabling a high resolution 'macro' image to be created of the sample, without the use of complicated zoom optics.


Opto PANO Module is particularly well suited to micro section analysis and crimp analysis applications.
Ideal for flat, reflective surfaces with microstructure detail
Perfect for micrographic and crimp inspection applications
Able to create 100Mpx Image with a resolution of 1µm / Pixel Designed for system and OEM integration with API & DLL available!
Here you see a Micro Gear with an original size of 4mm in diameter. The image is 250MB big and gives a resolution mean less than 1µm. That represents principally a 266 Pixel Image.